Wachovia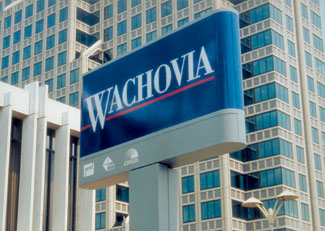 First Wachovia Corporation was formed by the merger of two respected banks — Wachovia and First Atlanta. Management was faced with the challenge of successfully uniting two institutions, each with a strong brand franchise and a distinctive corporate culture. To compete effectively with emerging national and supra-regional banks for customers and investment capital, First Wachovia had to establish itself as a strong, integrated financial services organization, one that was recognized for the full breadth and depth of its capabilities, resources, and growing geographic markets.
Lister Butler developed an identity strategy that helped achieve management's business and positioning objectives by uniting the two banks under a single brand. We recommended that Wachovia be used as the core name for the combined organization, to capitalize on the distinctiveness of the name and its strong reputation.
Lister Butler developed a distinctive new visual identity system to support the organization's strategic objectives. Externally, the new visual identity system sent a strong signal to customers, the investment community, and other key audiences that this was a new Wachovia, leveraging the combined strengths of its predecessor banks to create an even stronger financial services organization. Internally, the development of a new visual identity helped to build a shared corporate culture.
The brand identity strategy developed by Lister Butler also provided a strategic framework for successfully addressing the branding issues associated with subsequent mergers and acquisitions.